Current Affairs
Killings of Muslims in Indian Gujarat
(Police 'colluded' with attackers)
An international human rights group was slammed the government in the western Indian state of Gujarat for its handling of sectarian riots and said the police had 'completely failed' to protect the mainly Muslim victims of the violence.
Refuting the official death toll of 900 since the violence broke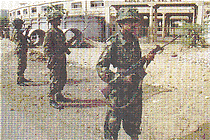 out in February, the International Federation for Human Rights (FIDH), quoting voluntary organisations, said the number of dead was closer to 2,000 with about 100,000 displaced."The vast majority of the victims are Muslims," the Paris-based FIDH said in a statement received by AFP.
The FIDH had sent a mission to Gujarat's commercial capital Ahmedabad to investigate the role of the police and other state agencies in the violence.
"The selective targeting of Muslim houses and shops, the storage and availability of weapons…. the pattern of specific police combing of Muslim areas… are some of the elements pointing towards an organised elaboration of the crimes," the FIDH said.
"….the responsibility of the Gujarat government is inescapable. The complete failure of the Gujarat police to provide adequate protection to victims to brutality is the most glaring illustration of this responsibility," the human rights group said.
Opposition parties have been demanding the resignation of Gujarat's Chief Minister Narendra Modi for his inability to prevent the violence.
The FIDH statement comes hot on the heels of criticism by international governments and domestic human rights groups over the situation in Gujarat. The Indian Prime Minister Atal Behari Vajpayee however lashed out against the growing international criticism of the sectarian riots.
"India is being advised on pluralism and secularism. We need not learn about secularism from anybody," Mr. Vajpayee said, apparently angered by comments from Western diplomats in Indian newspapers.
Some 31 people have been killed in renewed violence in Gujarat when fresh unrest broke out in the worst clashes there since the army was deployed to keep order in early March.
The FDHI statement said "numerous cases of active police collusion with attackers" had been reported to their team.
Several victims told how they were forced towards rioters by police officers, the rights group said.
A number of police officers said they were subject to political pressure not to arrest "the offenders of the post-Godhra violence," the statement said.
The FIDH said it was most concerned to learn that officials of Mr. Vajpayee's Hindu nationalists BJP party and its religious affiliates who were suspected of having taken an active part in the violence, were "being shielded from prosecution through political intervention."
The group also expressed concern about the 'limited' powers given to the one-man judicial commission set up to probe the riots.
"Its (the commission's) terms of reference appear to have been deliberately limited in order to avoid wide-ranging enquiry into the real instigators of …the possible planning of the attacks against the minority community," the FIDH said.